Federal Student Aid's coronavirus disease 2019 (COVID-19) information page is located at StudentAid.gov/coronavirus. The page includes information about relief to student loan borrowers, including those who have defaulted on their federal student loans. Please visit the page regularly for updates.
President Trump signed the CARES Act on March 27, 2020, which will provide additional flexibilities related to COVID-19. Websites and systems are being updated as quickly as possible to reflect changes in the law. We appreciate your patience.
Central Research, Inc. is dedicated to giving back. We support our local community by fostering volunteer opportunities and community involvement within our company culture.

Marine Corps League – Toys for Tots
CRI is a proud supporter of the Marine Corps Toys for Tots Foundation, and its mission of delivering the magic of Christmas to disadvantaged children throughout the Northwest Arkansas community.
​A member of our management team, also a Marine Corps Veteran, currently serves as the co-project manager for the Northwest Arkansas chapter. Throughout the year, CRI supports the Toys for Tots Foundation by organizing fundraisers and providing volunteer support to collect new, unwrapped toys during the holiday season. CRI employees regularly participate in the Annual NWA Golf Tournament, and raise money through jeans days and other company competitions.
​In previous years, over 17,000 toys were collected in our office headquarters, which doubled as the area donation center. CRI employees volunteered to help sort, distribute, and collect toy donations.
Operation HOG
CRI began Operation Handing out Gratitude (HOG) in 2011. Its mission is to collect donations and toiletry items from businesses and friends within the local community to package and send to U.S. service men and women that are stationed away from their home bases during the holiday season.
​Care packages include various toiletry and dried good items that are often requested; including, snacks, games, books, movies, socks, etc. CRI provides for all packaging of boxes and sponsors all shipping fees. Each year, this endeavor has seen tremendous growth. In November 2013, Central Research employees collected and packaged a total 130 boxes that were sent to soldiers stationed all over the world, with the majority being sent to Iraq and Afghanistan.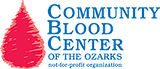 Rogers-Lowell Chamber of Commerce, Local Job Fair Expo
CRI has supported the greater community of Northwest Arkansas by presenting each year at the annual Rogers-Lowell Job Fair Expo. For the past few years, the topic of our presentation has been: The ABCs of Starting a Veteran-Owned Business. We strive for all of our Veterans to be made aware of the opportunities available to them in the community, and to be an example of what a Veteran-Owned small business can grow to become. In addition, CRI spends the day speaking to community members who are interested in learning more about future job opportunities.
Community Blood Center of the Ozarks (CBCO)
Every quarter, CRI employees supply the "gift of life" by volunteering to donate blood through the Community Blood Center of the Ozarks (CBCO) mobile blood donation program.
​Donating blood to the CBCO supports the greater community by ensuring an adequate supply of blood for those who are in need of transfusions for medical reasons.The CBCO is a non-profit organization that is committed to providing the highest quality
of blood and blood products to area hospitals at the lowest possible cost.

U.S. Department of Veterans Affairs (VA), Veterans Health Care System of the Ozarks
CRI proudly supports the local Veterans Affairs Medical Center on an annual basis by participating in the Avenue of Flags. This involves raising 115 U.S. flags that surround the medical center entrance in the morning, and lowering the flags again in the afternoon in observance of national holidays and special recognition ceremonies. While there, employees are able to visit with Veterans and hand out gifts of gratitude to show our sincere appreciation for their service.